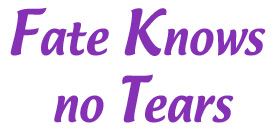 ---
---
The Story

"LAURENCE HOPE" (1865-1904)
WOMAN POET OF BRITISH INDIA

FATE KNOWS NO TEARS by Mary Talbot Cross is a biographical novel based on the life of Violet Nicolson who found fame as the poet "Laurence Hope". The story of this remarkable woman takes place mainly in India where, as the wife of Colonel Malcolm Nicolson of the Indian Army, she flouted many a convention imposed on society by the staid and inward-looking British memsahibs of the times. Her dashing husband introduced her to the sights and sounds of the far-flung corners of Empire‹and later to the crushing boredom of a Generalıs wife. Violet Nicolson found her own ways of escape, and at her tragically early death in 1904 left behind three volumes of poetry which are a testament to her life and times. FATE KNOWS NO TEARS is on the one hand a romance, but it is also a gripping account of one woman's struggle for the right to self-expression.
---
Acknowledgements
"My thanks to Reed International, holder of the copyright of Gertrude Bell's translations from the poetry of Hafiz, originally published by William Heinemann in 1897, for permission to quote from her work; quotations used as section headings are taken from Laurence Hope's three books of poetry:The Garden of Kama (1901), Stars of the Desert (1903), and Indian Love (1905), also published by Heinemann.
My original intention was to write a biography of Adela Florence Nicolson ('Laurence Hope'). When, however, my attempts to communicate with the descendants of some of the main protagonists met with silence, a biographer's nightmare rapidly turned into a novelist's dream, and for the past five years I have relied instead upon my own research and intuition in creating what I hope is a credible - if often fictional - account of the poetıs life set against authentic events of the age in which she lived. In doing this I acknowledge my debt to Lesley Blanch's chapter on Laurence Hope in Under a Lilac-Bleeding Star (1963, John Murray, London); this was a useful starting point, drawing as it does on an unpublished memoir written by the poet's son, although tantalisingly vague on detail. Other memoirs and personal writings of the period helped shed more light on the poet's persona, but it was Violet Jacob's Diaries and Letters from India, (1990, C. Anderson. ed., Canongate, Edinburgh), written in Mhow in the years 1895-1900, which brought the Nicolsons and their milieu to life, and my debt to these and to Violet Jacob's later, unpublished, Indian diary and papers held in the National Library of Scotland, Edinburgh is considerable. Captain Crawford McFall's With the Zhob Field Force (Heinemann 1895) gives a day by day account of the expedition's manoeuvres, and interesting details of the Griffin family and Heneage's mining ventures are contained in Maryjoy Martin's Suicide Legends, Homicide Rumors, (1986, Spes in Deo Publications, Montrose, Colorado). But it is Laurence Hope's poetry that provided many of the clues, both to the poet's personality and life, and to her travels in the Indian sub-continent, Europe and North Africa.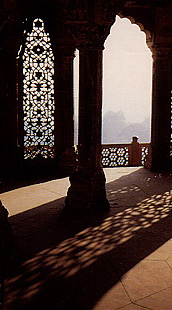 I am grateful for the opportunity to research at the following institutions: the Australian National Library, Canberra; the Borchardt Library of La Trobe University, Melbourne; the British Library, London; the Edsell Ford Library, Lakeville, Connecticut, USA; Emory University and Georgia State University, Atlanta, Georgia, USA; the Malayala Manorama newspaper of Kerala, India; the Kipling Collection, University of Sussex; the Mitchell Library, Sydney; the National Army Museum, London; the National Library of Scotland, Edinburgh; the Oriental and India Office Collections of the British Library, London; the Library of the Royal Botanic Gardens, Edinburgh; the State Library of Victoria, Melbourne, and I would like to thank the staff of the above for their help, particularly the staff of the Borchardt and Victoria State Libraries. My thanks to the staff of the many libraries, archives and other institutions with whom I have been in written contact over the past five years, particularly the following: the BBC Archives; the British Library Newspaper Library, London; Debrett's Peerage; Octopus Library (William Heinemann); Richmond Library, Richmond, Sussex; the Archives of the Royal Opera House, Covent Garden; Shropshire County Library; Trinity College, Bristol.
I am very grateful for the opportunity to visit the cantonment at Mhow, Indore State, India, and greatly appreciate the hospitality and help afforded me by the General and Staff of the Infantry School.
I should also like to thank the following individuals: Frederick B. Adams; Michael Barthorp; Kathleen Cory; H. Colin Davis; Vin D'Cruz; Prya D'Cruz; R.G. Harris; Marion Harding and Angela Kelsall; Lieutenant Colonel C. Kannan (retd.); Professor E. Karim; Dr. G. Krishnamurti; Margaret MacMillan; Edward Marx; Elise May; Professor Michael Millgate; S. Muthiah; Professor Harold Orel; Professor Emeritus A. Paneerselvam; Professor Thomas Pinney; Elisabeth Purbrick; Tim Thomas; the Webster family; Beryl and Malcolm Williams, and many others besides.
Special thanks are due to Valerie Hiley for her enthusiastic research at the India Office Library which set me on the right road, and her interest and support throughout the project, and to Melvyn Hiley; to Pauline March, whose invaluable research in the National Archives of Pakistan, Islamabad, has thrown light on much that was hitherto unknown and greatly enriched the novel; to John Jealous of Books about India and editor of the Laurence Hope Newsletter whose enthusiasm and help have been an inspiration, and to him and Dr Helen Ross for their hospitality on several occasions; to Donald Morrison for his generous gift of original manuscript letters from Blanche Alethea Crackanthorpe; to William Jacob for the opportunity to study the Jacob family papers and to him and Mrs Jacob for their kindness; to Michael and Frances Cory for their help and hospitality; to my family and friends for their interest, suggestions and practical assistance; finally my love and thanks to Roger, without whom nothing at all would have been possible - let alone finished - and who has provided never-failing encouragement and support throughout.'
---
Background to the Poet's Life
Adela Florence Cory, the poet "Laurence Hope", was born to British parents on 9 April 1865 in Gloucestershire, England, and following her education at a private school run by a Belgian couple in Richmond, outside London, she returned to Lahore (then part of British India) in 1881. Her father, a retired colonel in the Indian Army, was editor of the Lahore arm of The Civil and Military Gazette, and it was he who in all probability gave Rudyard Kipling (a contemporary of his daughter) his first employment as a journalist.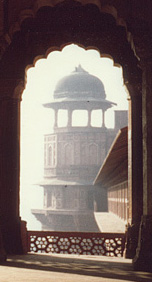 Arthur Cory had three daughters: the youngest, Annie Sophie, gained notoriety as the popular novelist "Victoria Cross"; the eldest, Isabel, Mrs. John Tate, succeeded her father as editor of The Sind Gazette, Karachi, the newspaper he founded in 1886. When she married Colonel Malcolm Hassels Nicolson (1843-1904), commandant of the 3rd Baluchi Regiment in April 1889 in Karachi, Adela (or "Violet" as she became known) seemed destined to follow the traditional path of the British Army wife.
This was not to be the case. Her husband, a brilliant linguist who was fluent in 5 of the languages of the North-West Frontier tribes, introduced his wife to native culture and instilled in her a deep and abiding love of the sub-continent and its traditions - a love he himself shared - and its poetry which he was more than competent to understand and translate. Their life together, first in Baluchistan, then in Central India upon Nicolson's promotion to general, can be well documented from contemporary sources which show the couple to have been eccentric (according to the standards of the times, that is), and with a shared love of Indian food, dress and culture. Their kindness and compassion is also on record.
Accounts of Laurence Hope's life in the various literary dictionaries on the market, are often misleading, e.g. the errors contained in The Dictionary of National Biography. These, alas, have been picked up and perpetuated by similar works well into the 1990s. So, too, have references to the poetry as being "Sapphic" or "Swinburnian" in tone. The early poetry found its inspiration far from the island of Lesbos or the over-heated drawing rooms of London, however, and we should look rather to the poets of the North-West frontier and their verses drawn from ancient Persian tradition. James Darmesteter (1849 - 1894), Professor of Persian at the prestigious College de France, Paris documented the images used by the frontier "bards" as being symbols of the latent Sufi nature of their songs - the very images used by "Laurence Hope" in her poems which have caused her to be labelled a woman of unbridled passions. (See Darmesteter's Chants populaires des Afghans (1888-90. Paris: Society Asiatique).
Perhaps she was indeed an inordinately passionate woman, but I don't think the answer to that will necessarily be found in the poetry. The poems of Central India (1895-1900) most often tell of native Indian ways and legends, again I suspect from translation. It is only after retirement, when the couple left India for a time, that we find the purely personal voice of the poet beginning to dominate. On return to India in 1904, leaving their only child, Malcolm J.J.S. Nicolson (1900-1980), in the care of the Generalıs ageing sisters, "Laurence Hope" wrote of the joyous home-coming she experienced in the South. The couple made their home in Feroke, on the Beypore River, in Malabar (now Kerala) and for 6 months at least found true happiness. When Nicolson fell ill they went to Madras where the General was operated on unsuccessfully in August 1904, and died. His widow was taken in by friends, the Stewarts, and for two months she stayed with them at Dunmore House (a property they were renting from Eardley Norton, the noted barrister and champion of the Indian right to self-determination). On 4 October 1904, when her final book of poetry was completed, "Laurence Hope" confided to a friend in London her intention of exercising her own "right" to follow her husband, entrusted the letter to Sir Norman Stewart whose return to England was imminent, retired to her room and took poison. It was an English equivalent of sati, and fittingly her last poems were published posthumously under the title Indian Love.
---
Poem
From "Fate Knows no Tears", The Garden of Kama, p. 79:
And thus we part, with no believing
In any chance of future years.
We have no idle self-deceiving,
No half-consoling hopes and fears;
We know the Gods grant no retrieving
A wasted chance. Fate knows no tears.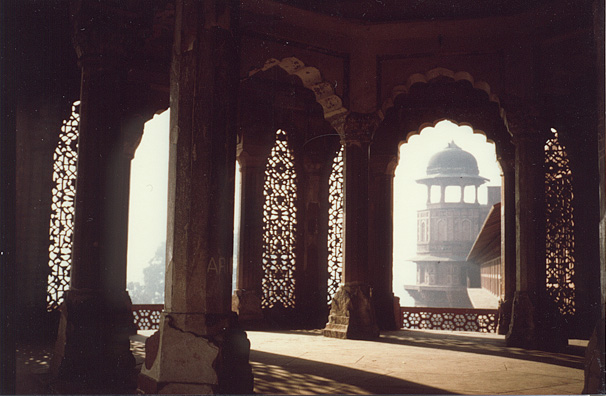 ---